Welcome to the house of fun
You may be thrilled to have your kids at home for this summer, but let's face it, when it is too hot outside and those cute little angels get bored, reality will kick in fast, and it's not going to look pretty. But don't worry mama, we've got your back! At Sunny South, we have paint solutions for a killer home, with that extra touch of entertainment that only experts can achieve. This new products will make your home modern and stylish, and most important, kid friendly. At first glance, your family wouldn't believe walls could have a surprise element… Sounds exciting, huh? how can you make that happen? Follow these recommendations and welcome to the house of fun!
Rust-Oleum Magnetic Primer (Indoor Use Only)
What is it?
It is a base coat that allows you to create a surface that attracts magnets. You can apply this to wood, metal, masonry, drywall, plaster… You get the idea.
You can find this primer in any color. So, imagine your living room or that special spot at home where you can use this avant-garde Rust Oleum paint. It will look stunning, plus, there is a number of fun activities that helps kids explore the amazing properties of magnets. We guarantee, this will have their full attention… Mmmm, at least for a while.
Magnet treasure hunt

Hide a few magnetic stuff around your house and ask your kids to find them (Give them clues). Once they gather all the pieces, mix them with other non-magnetic items. Fun really starts when they try to attach them on the wall and realize some of them do, and others don´t. Note: Magnets can be particularly dangerous.

Adult supervision for kids under 6 recommended.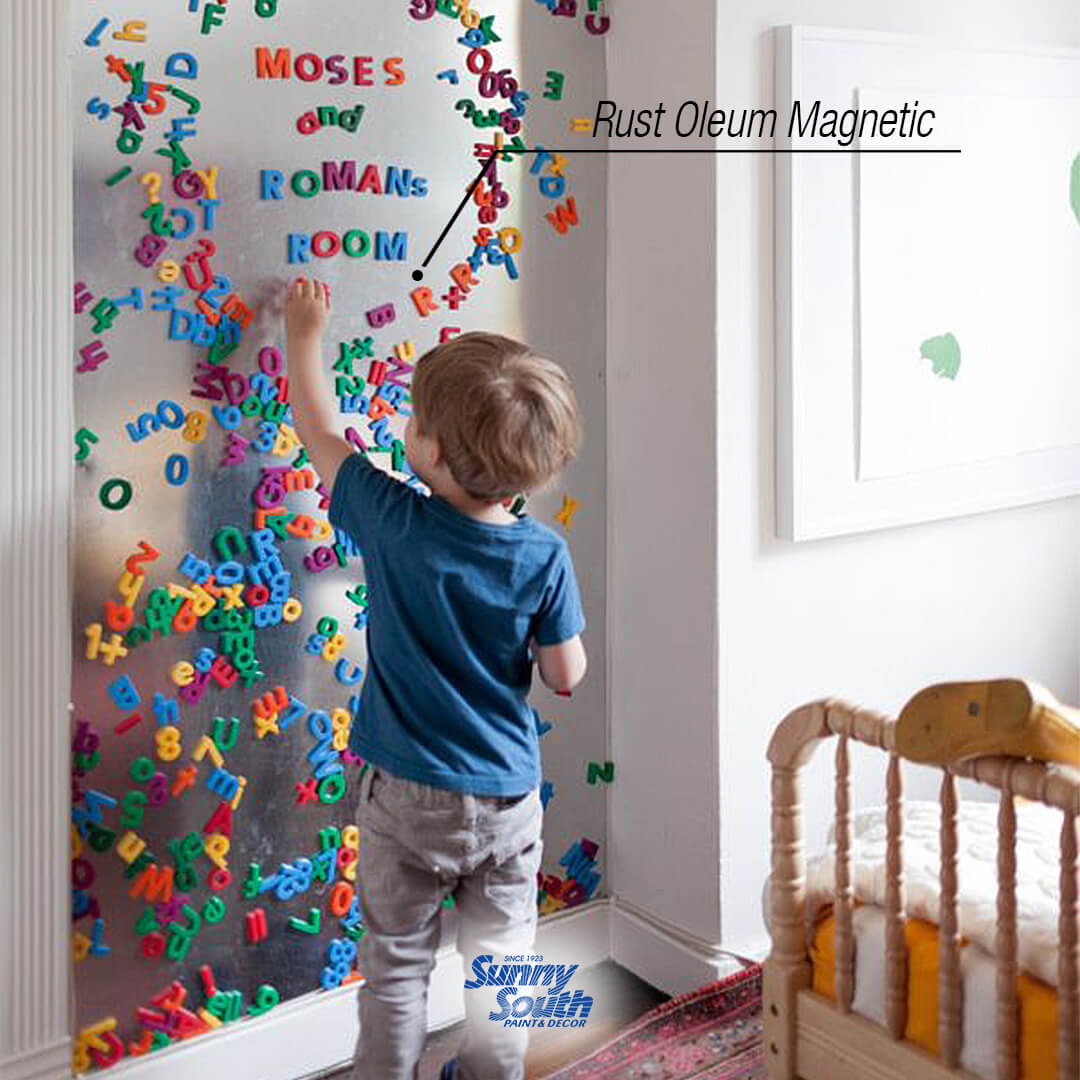 Benjamin Moore Chalk Paint
What is it?
This new color technology turns your walls into vertical writing centers. This topcoat is available in any color and can be used on new or previously painted surfaces. It is washable and has a quick drying effect. Sounds like any parent´s dream come true.
A chalkpainted wall goes a long way. For toddlers, this is a hit. Have one of the walls in their room in chalkboard paint, ad let those mini Picassos express themselves. You can also leave them small notes, review colors, shapes, ABC´s, you name it, chalk is so versatile that kids and even grown ups will love to spend time discovering their inner artist. And we are saving the best for a perfect finale, NO MESS… You are welcome parents.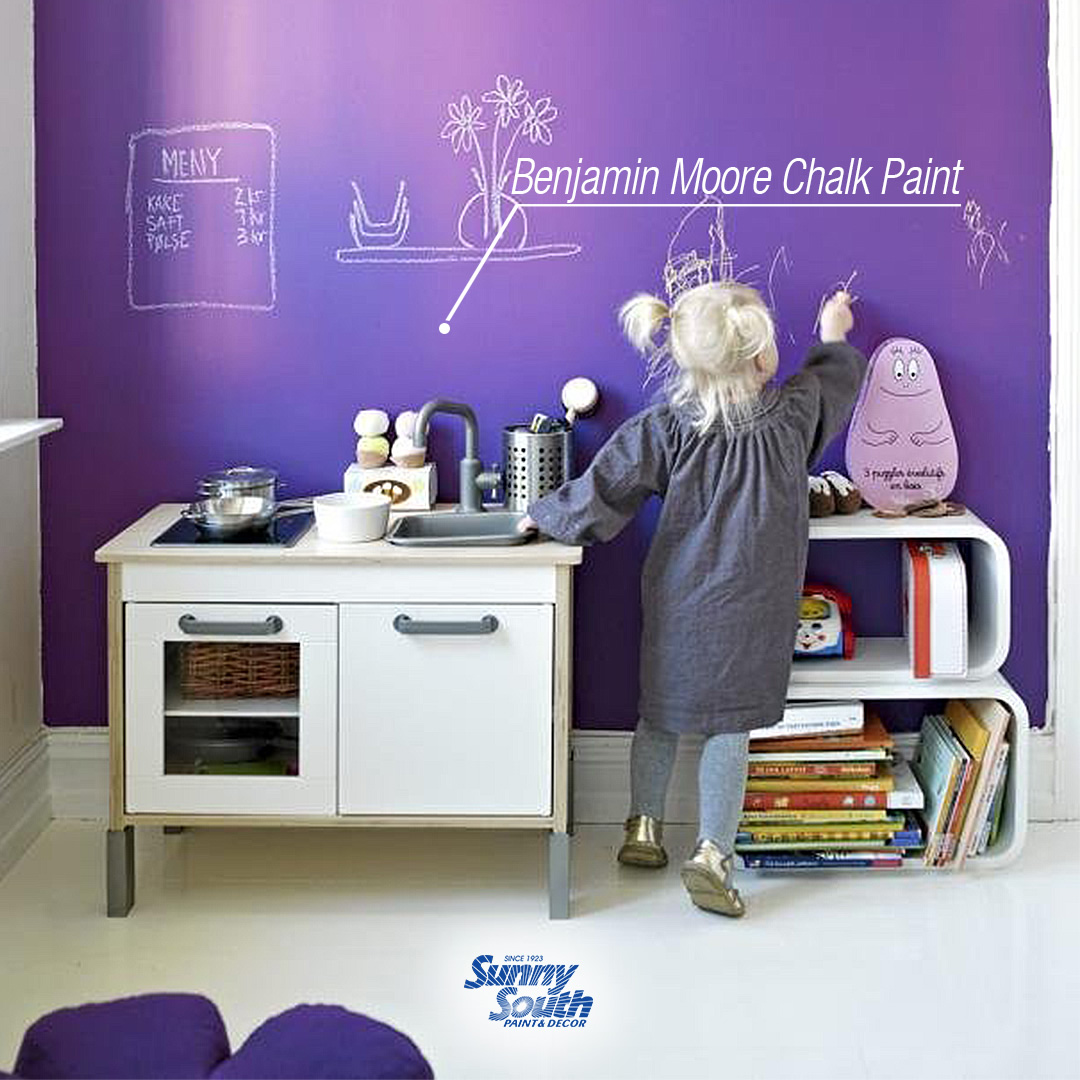 Benjamin Moore Glow in the dark
What is it?
Waterborne, semi-gloss, acrylic paint which can be stamped and stenciled on a painted basecoat. As the name indicates, it glows in the dark. Try using this anywhere you spend time in the evening, because this effect comes alive most effectively at night.
There´s something about light and glowing things that most kids find them fascinating. They just can´t get enough of it. Adding this accent to a bathroom or a playroom at home can do wonders to your house style and you will be, no doubt, the coolest mom or dad on the block.
After a hot sunny day, you can get home and have a bubble bath while watching at the stars, or even surprising your kids with funny figures on the ceiling. Creativity is the main character here. Don´t hold back any crazy idea, remember your house is your own canvas. Have fun!
If you are ready to try any of these new home decor tendencies for this summer, remember our experts are always ready to welcome you at any of our Sunny South Stores.
If you are ready to try any of these new home decor tendencies for this summer, remember our experts are always ready to welcome you at any of our Sunny South Stores.